10 décembre 2008
Bonjour,

"Enfiiiiin !" vous dîtes-vous, "Elle se décide finalement à mettre son blog à jour, c'est pas trop tôt !"

Hum, voui, j'avoue qu'une fois de plus, j'ai été atteinte de flemingite aiguë et que transfèrer mes photos de mon APN (maman, voyoooons, APN = Appareil Photo Numérique) vers mon PC, puis de mon PC vers mon disque dur externe, puis les trier et les ajouter sur mon blog, eh bien, quand on a rien d'autre à faire, ça paraît insurmontable ! Alors que maintenant, moi qui suis censée ranger ma chambre (ou du moins l'éclaircir afin de tracer un passage entre la porte et le lit...), préparer mes affaires pour mon retour en France, faire ma leçon sur Noël etc..., je suis pleine d'énergie pour reporter (à demain ?!) ce que je devrais actuellement faire et m'atteler enfin à ce que j'aurais dû faire il y a des semaines, logique non ??

Bref, voici donc quelques photos prises rapidement à Londres lors de mon week-end là-bas pour fêter les 24 ans d'un copain, enjoy !

Hello,

"At last !" you're telling to yourself, "She finally updated her blog, none too soon !"

Erm yes, once again an acute lazillness affected me and transfering my photos from my digital camera to my laptop, then from my laptop to my external hard drive, then sorting them and uploading them onto my blog, well when you have nothing else to do, it just seems insurmontable ! While now, when I am supposed to tidy my bedroom (or at least make a clear way from the door to the bed...), prepare my luggage to go back to France, plan a lesson about Xmas for my students and so on and so on... I am full of energy to procrastinate (to tomorrow ?!) what I should do and eventually get down to what I should have done weeks ago, logical isn't it ?

Anyway, here are a few photos quickly taken in London at the beginning of the month, when I went down to celebrate a friend's 24th birthday, enjoy !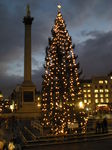 Trafalgar Square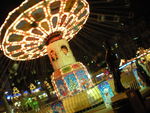 Merry-go-round on Leicester Square



Covent Garden

En supplément, la tenue presque complète pour la soirée roller-disco ! Woohoo !! (je suis fière d'annoncer que je ne suis même pas tombée héhé ! des années d'entraînement sur mes patins à roulettes Fisher Price ;-) ) And for free, THE picture of my almost complete 80's roller disco outfit ! Woohoo !! And I'm proud to say that I didn't fall over teehee ! Years of training on my Fisher Price roller skates when I was a little girl ;-)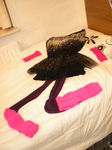 XoXo
Commentaires sur London